December 15th Winter Wonder Lab & Holiday Show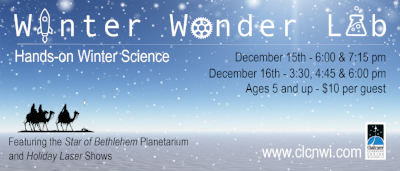 Join us for hands-on, cold weather science fun. Come early and explore our Winter Wonder-LAB for "cool" science experiments like Snowball Catapults, Ice Orbs, Snow Machines and more. Then watch the 60-minute popular holiday program presented on a planetarium dome. The program includes the media presentation, The Star of Bethlehem, followed by a highly entertaining holiday laser show. Guests will want to sing along!
The Star of Bethlehem is about the biblical rendition of the Wisemen following the rise of a new star in search of the Christ Child, and offers scientific explanations for what this phenomenon might have been. It also gives examples of how the movements of heavenly bodies in the skies were used at different times throughout history to place and design structures, or even predict events on Earth.
Join us for this event that will surely bring the holiday spirit in all!