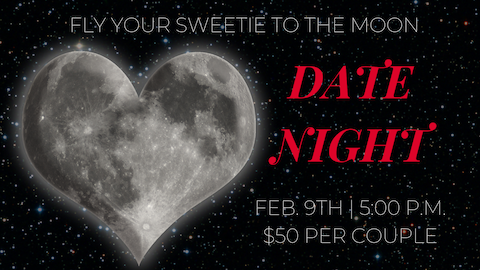 Valentines Date Night, Fly Your Sweetie to the Moon! - FEBRUARY 9th 2019
Looking for an out-of-this-world date night? Look no further!  This Valentine's Day show your sweetie that you love them to the moon and back with a date night you'll never forget!
SATURDAY, FEBRUARY 9TH
5:00 PM
$50 per couple
Fly an extra special SPACE MISSION to the Moon where you and your sweetie will spend time in our unique Spacecraft and work together to find out if you have "The Right Stuff"!
You'll also experience a dazzling and romantic PLANETARIUM and LASER LIGHT SHOW in our full-dome media globe. Light refreshments will be provided
Reservations are required